Welcome
Solo Albums
K & I
Briefing
Ten Gallon Hat
John Wayne
Glimpses of Grace
Avocado Faultline

Last updated 11/1/00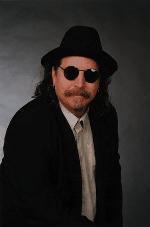 Terry Scott Taylor
Welcome
Welcome to The Terry Taylor Page, the first in DA member feature pages. Hopefully this page will contain news bits, interviews, pictures, links, etc. that somehow relate to DA's beloved front man (pictured above).
Features
Use the links in the left navigation bar to get around.

News
Terry Taylor and Phil Madeira "Pretend I'm Elvis Tour" (updated 11/1/00)
Terry and Phil are hitting the road to support Terry's new album, Avocado Faultline. Terry hopes this will be the first of a number of tours. If you're within a 2 day drive of one of these shows, make sure you mark your calendar!
Additional information is available at DanielAmos.com.
November 2, 2000 - Sedalia, MO.
November 3, 2000 -- St Louis, MO. (DanielAmos.com is selling tickets for this show)
November 4, 2000 -- Vincennes, IN
November 5, 2000 -- Carmel, IN
November 6, 2000 -- Roseville, MN
November 8, 2000 -- Livonia (Detroit), MI
November 9, 2000 -- Muncie, IN
November 10, 2000 -- Green Bay, WI
November 11, 2000 -- Ames, IA
November 12, 2000 -- Chicago, IL
November 14, 2000 -- Greenville, IL
November 15, 2000 -- Nashville, TN
November 16, 2000 -- Atlanta, GA
November 17, 2000 -- Nicholasville, KY (with Michael Roe!)
November 18, 2000 -- Bedford, IN (with Michael Roe!)
New Acoustic Solo Album - Avocado Faultline (updated 7/16/00)
Terry's new solo album is now available from Silent Planet Records and has a street date of 7/25/00! The Avocado Faultline page is now up and lyrics will be soon to follow. Click here for the press release.

"Best of" Survey Results are In (updated 8/12/99)
If those who entered the contest had picked the songs for GoG, the track listing would look something like this:
You Lay Down *
One More Time *
Writer's Block
Beyond the Wall of Sleep *
Changeless
Light Princess *
(out of) The Wild Wood *
Here He Comes, Second Time
Song of Innocence *
Hey John Wayne
Will Have To Do For Now
Dancing on Light
* = song made it on to GoG


John Wayne makes the charts (updated 1/30/99)
John Wayne received fourth place in 7Ball Magazine's Reader's Awards for Best Album!

Terry to be on new Unison albums (updated 11/23/99)
Mike Roe (of the 77s, Lost Dogs, Swirling Eddies) recently signed a four album contract with newly formed Unison Music upon which he will be creating some (four) "instrumental ambient" albums. Daydream, the first album is available at 77s.com and will be be in stores shortly.
It was reported that Terry was to be on this album, but it turns out that he is not. However, Terry will be on a Unison album or two from Derri Daugherty.
Watch for news on these albums at http://www.unisonmusic.com.

John Wayne Radio Promo Disc (updated 1/15/98)
Mr. Flutter and You Lay Down will be the first JW singles to be released to radio! They will be featured on a radio promo disc similar to MotorCycle Tracks. The track list is something like this:

1. Mr. Flutter
2. You Lay Down
3. Terry introduces Mr. Flutter
4. Terry introduces You Lay Down
5. Terry talks about Mr. Flutter
6. Terry talks about You Lay Down
7. Terry talks about the John Wayne album
8. As Long As I Live (Bonus cut featuring Joe Taylor on piano)

Instead of breaking in to your local radio station to steal this disc, call in and request these songs! A handful of these cds are available from Stunt Records - so get some while you can!

Browbeats (updated 7/12/98)
Browbeats is a new compilation album who's concept was birthed by Mike Knott (LSU, Aunt Bettys, etc.) and features music written by Knott (two songs co-written with Terry) and performed by Knott, Tedd Cookerly of EDL, Scott Silletta of Plankeye, Jason Martin of Starflyer 59, Gene Eugene of Adam Again and Lost Dogs, Wayne Everett of The Prayer Chain, and our friend Terry Taylor (Terry gets two songs). Unlike the the original Browbeat album which contained "Unplugged Alternative", Browbeats will be plugged-in and contains a wider variety of music.
This album is now out! More info can be found at the Diamante site.

Surfonic Water Revival (updated 7/7/98)
Terry's Surfonic Water Revival album which he wrote and produced features songs performed by The Supertones, All Star United, Chuck Girard, Smalltown Poets, Plankeye, The Insyderz, Plumb, Silage, Paul Johnson (The Bel Aires), Phil Keaggy, The Lost Dogs, Daniel Amos, a many more! This album is now out! Go to the Surfonic page to learn more!

Diamante's GMA Late Night Showcase (updated 7/22/98)
Terry was a part of Diamante's Late Night Showcase during GMA week. Playing with Terry for the 20 minute acoustic set was: Jerry on acoustic guitar, Derri on electric mandolin, Phil Madeira on accordion and lap steel, Steve Hindalong on percussion, and Chris Donohue (has played with VOL, Steve Taylor, others) on bass.
New! Go here for a mini-review and pictures of the show!
---
Return to A Daniel Amos Home Page...
Comments?

Copyright © 1995-2000 Kevin Shafer