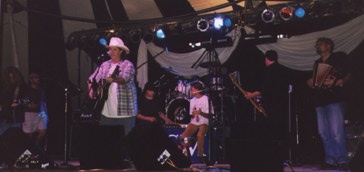 Terry was once again invited back to Cornerstone this year, so I climbed aboard the Daniel Amos Enterprises Lear jet to get the scoop on everything that went on and to bring back to you whatever souveniers I could find. Okay, there wasn't a lear jet...at least I wasn't on it if there was one...not that I would know if there was one...which I wouldn't.... Anyway, enjoy...

New! Watch part of the show with RealPlayer G2! I'm only experimenting with RealVideo, but I thought you folks might enjoy the results of my tests. So click here to experience Terry & Friends in concert! Thanks to A. Cheesehead in the Endzone for the footage!
Also you can visit Curt Borders' Terry & Friends '98 page and Giovanni Audiori's Cornerstone page!
There are also a few pics at www.christianrock.net, and there's a RealAudio clip at The The Fishbowl.
P.S. Do you have pictures (or maybe audio) of the show you'd like to share with fellow fans? If so, please email me.
---
Return to A Daniel Amos Home Page...
Comments?